The Ultimate Winter Packing List
The first-timers guide for a comfortable ski trip to Steamboat this winter.
We can't wait to share our Champagne Powder® snow-covered memories with you! We understand winter in the mountains might be a bit overwhelming, and this list should help you stay warm and comfortable whether you're cruising through snow-covered pines, riding the Steamboat Gondola, or enjoying après in the rocking chairs around Steamboat Square. Also, don't forget to check out the complete first-timers guide.
---
Here is a trip packing list for one person for a weeklong trip. We'll also drop helpful tips to help get you outfitted and save you from overpacking.
Ski & Snowboard Clothing
Travel Tip :: Remember to dress in layers. Weather conditions in the mountains can change quickly.
Thermal Base Layers – 2-3 sets of tops + bottoms; moisture-wicking.
Insulating Layers – 1-2 pull overs or insulated vests. Fleece works great, no cotton.
Ski Pant or Bib and Ski/Board Jacket – Don't skimp here. Quality and waterproof are key. Our friends at The North Face have products that fit the bill, as well as a brick and mortar store in downtown Steamboat Springs to help you out in a pinch.
Gloves or Mittens – Waterproof is a must for on-slope use. Glove liners are also great around the base or around town, and can be used together in extreme cold. Dakine gloves and mitts are sure to keep your hands warm.
Neck Gaiter – Leave the ol' loose scarf at home, a neck gaiter will keep the elements off your face and neck. Phunkshun has some fun colorful options that are made from recycled plastic bottles.
Wool Socks – 3-4 pair of thin, wool or moisture-wicking socks, we prefer Smartwool ski socks, and don't recommend wearing more than one pair in your boots.
Ski & Snowboard Gear
Travel Tip :: If you are bringing your own gear, remember skis & boards can fly free on Southwest Airlines.
Or, take the hassle out of vacation luggage completely, you can skip the rental shops with Ski Butler, who will come to your hotel room, condo, or local address in Steamboat to fit and deliver your ski and snowboard rentals.
Skis + Ski Poles or Snowboard – Unless you're 100% sure you are going to love skiing or snowboarding and will be going 3-4 times per year, we recommend a rental package through our experts at Steamboat Sports.
Ski Boots or Snowboard Boots –
These are different than street shoes and built specifically to fit your skis or board.
Ski Goggles or Sunglasses – Goggles are the only way to see when skiing or riding during active snowfall, and sunny days can make for eye-burning reflections from the snow. Smith Optics have some nice quality, non-fogging options.
Helmets – We recommend helmets for all skiers and riders. They can take up a lot of room in your luggage. Rentals are available at Steamboat Sports when you arrive.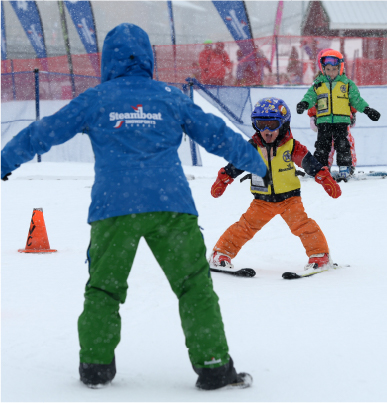 When skiing and riding as a family, oftentimes mom and dad may not be the best ski or snowboard instructors. Our youth lesson instructors are pros, and know the best ways to teach your kiddos skills and have fun along the way. SnowSports kids and teen lessons can be a great investment in trip morale, and everyone can have a great time.
During a weeklong trip, it can be tempting to get the most out of every second by spending each day skiing and riding. Unless you're accustomed to skiing and riding multiple days in a row, we recommend taking a down-day mid trip to recuperate. From Skeeter's Ice Rink, to the hot springs there are a plethora of activities to explore.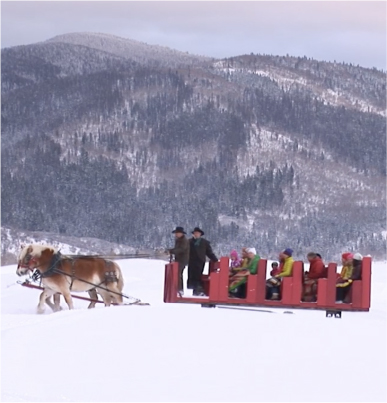 Consider taking advantage of a truly unique experience for dinner one evening. Cozy up in a horse-drawn sleigh ride with great views of Mt. Werner and the Yampa Valley before sitting down to a Colorado-inspired dinner.
Non-Ski Clothing
Travel Tip :: Don't overdo it here. Most ski clothing can be repurposed if you have laundry capabilities. Also, while going out to dinner it's fine to dress up a bit; but leave the coat and tie at home. Steamboat's still a western mountain town, and mountain casual is the go-to attire just about anywhere.

Don't forget to save room for souvenirs or ship them home from shop.steamboat.com
Comfortable Warm Clothing – 1-3 sets of sweater, jeans or pants great for a downtown stroll or sitting in a rocking chair by the fire in Steamboat Square.
Boots/Shoes – After wearing ski boots all day you'll be ready for some lightweight footwear; just be sure it's waterproof.
Sleepwear – Base layers can also double as sleepwear if you're looking to save room, and have laundry services available.
Beanie – Pickup one of these cute beanies with the pom on top from Steamboat Sports while you're here. Keeps you warm and makes a great memento.
Swimsuit – While it might sound odd during the winter, after a day on the mountain your sore muscles will be ready to hear two words: hot springs.
Miscellaneous
Travel Tip :: If you order your tickets and passes 10-14 days prior to arrival, we will mail your passes to your mailing address.
If you purchase tickets and passes closer to your arrival date, we will email you a bar code so that you can skip the ticket office and pickup your tickets at one of our pickup kiosks in Steamboat Square. Be sure to screenshot your bar code for quick reference.
Steamboat or Ikon Pass
Itineraries, & Reservation Confirmations – save to your device for quick access.
Maps & Directions – If driving, screenshot to your phone as cell reception can get spotty in the mountains.
Credit Cards & Cash
Identification
Medical Insurance Cards
Prescriptions
Eyeglasses or Contact Lenses
Hand Sanitizer
Belts
Laundry Bag, Laundry Soap
Device(s), Chargers, Headphones – Download the Steamboat App ahead of time.
Snacks – Throw a few light snacks in your pocket in case you get hungry in the lift line. Honey Stinger waffles are always a hit and available at grab-and-go dining locations around the resort.
Toiletries
Travel Tip :: Because of Steamboat's high elevation and frequent blue-bird sky days, sunscreen is essential. Sunburns and occasional wind burn while skiing happen much quicker in our thinner atmosphere.
Sunscreen
Lip Balm
Lotion
Toothbrush/Toothpaste
Hair Brush, Combs, & Hair Accessories
Soap, Shampoo, & Conditioner
Deodorant
Shaving Supplies
Cosmetics
Ibuprofen
Nice To Have
Travel Tip :: There are plenty of grocery stores, and amenities within walking distance, a short drive or free bus ride of the resort if you forget something.
Hand or Toe Warmers – 1-7 packs of each
Book, Magazine, or Deck of Cards – It is a vacation after all, go ahead relax.
Small First Aid Kit – Bandages are great for first day blisters.
Josh Froman is a humble heartlander who has found his home among the mountain majesties of Northwest Colorado. Husband, dad to twins, coffee enthusiast, INTP. His favorite runs on an early Steamboat bluebird day are quickdraw, flintlock, and vagabond laps.